ELECTRICAL JOBS DONE
FOR CLIENTS

CUPS OF COFFEE WITH
CUSTOMERS
Stuart Whelan
Stuart Whelan is the principal electrician and Director of Recon Electrical. Starting his career in 1988 in Melbourne, Stuart transitioned from industrial maintenance to industrial installation, control panel design and working on complex commercial projects.
Moving away from the big smoke to Alice Springs, Stuart was attracted to this alien world and the vast landscape of the central desert. He started his own business and expands his skills, where he was able to delve into different industries, like commercial appliance repair, air conditioning, refrigeration and domestic work in all sorts of extreme weather and circumstances. From attempting to repair an oven with a whole kangaroo it, to working inside roofs on a 50 degree day; the outback stretched Stuart's capabilities.
Stuart has worked closely with real estate agents, builders, architects, small business owners, government agencies and home owners and specialises in control panel design and the repair of commercial appliances for supermarkets, hotels, cafés and restaurants. Now back in Melbourne, Stuart is eager to bring his new customers that same reliable service and a reputation for hard work and honesty; he gained in the red centre.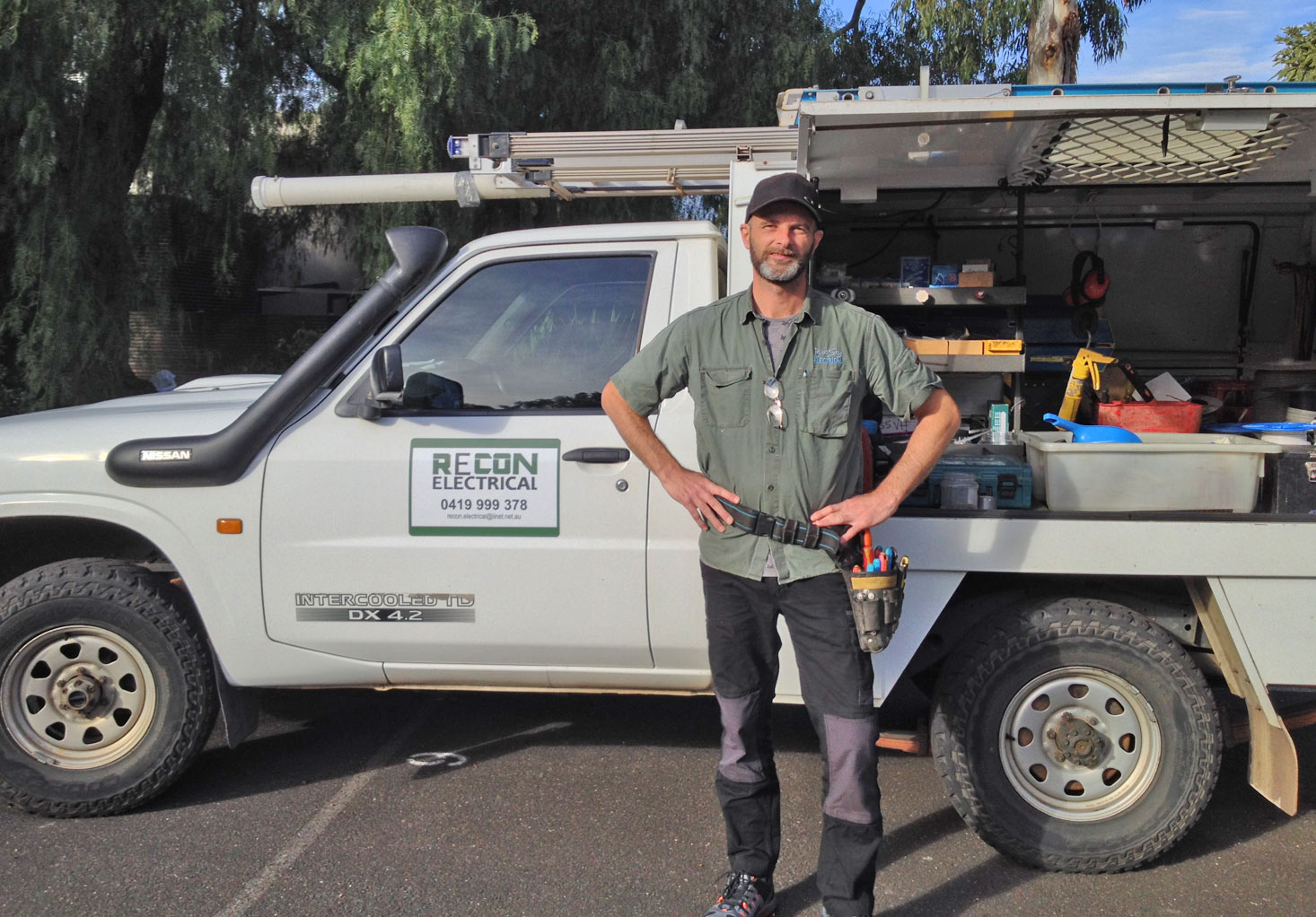 
Mon – Fri: 7.30am – 5.00pm · 24hr breakdown service
0419 999 378
Got a question? Give Stu a call.
"Stuart was professional and did a great job with the electrical work in our house. He was very thorough and very tidy, I would highly recommend Recon Electrical."
"Work was carried out in a timely manner, no issues with workmanship and communication was exceptional. Highly recommend Recon Electrical.."
"Stuart was really helpful and extremely patient as our job took a while in between stages. Very informative and true to his quote. We will definitely be using Stuart again."
"Prompt, Efficient professional tradesman, did a great job, can highly recommend."
"Very professional and friendly."
"Stu did a great job. Quick friendly and even did a few more jobs whilst he was here. Thanks Stu. Highly recommended."